It's been a couple weeks since I wrote and for that I apologize. With that out of the way, time for some updates on my progress to get every profession maxed out and get gold capped!
When I last wrote I mentioned that I was slowing down on WoW for a couple weeks to catch up on some other gaming. While that happened, I did sneak in enough World of Warcraft time to finally cap enchanting on my 80 hunter, alchemy on my priest (for those counting, that leaves only tailoring and leatherworking) and level said priest to 80, making him my fifth level 80 toon! And since epics are easy I did a few dungeon runs and got some loots and a couple pieces of tier 9.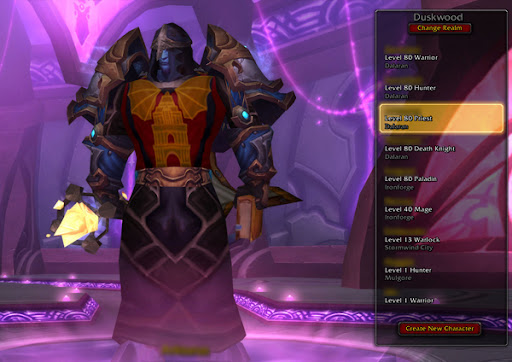 I broke 40,000 gold as well. I know for some hardcore gold makers in WoW this number represents a week's worth of buying out mats in the Auction House, but I'm not officially gaming the AH just yet. This is just selling stuff I craft leveling up my various professions and gold earned while leveling up toons, etc. Also, four of my five level 80 toons have epic flying so that's a huge chunk of money invested right there. To be honest I don't see myself really gaming the economy until after Cataclysm arrives. Until then....preparation. Oh, and my bank toon's guild bank is filling up quite nicely with a surplus of stuff to sell when the time is right.
Concerning
Project Tauren Shaman
, which I know I haven't updated in way too long, I transferred my Orc Hunter Wyrmfoe to the Doomhammer realm so he could lend his heirlooms to my Shaman. Coincidentally both Spirithorn (my shaman) and Wyrmfoe are level 20. Don't worry, Wyrmfoe is ONLY providing heirlooms. The goal of Project Tauren Shaman is still to level without any gold or other assistance from other toons. By the way, Wyrmfoe's pet raptor is named AndyBotwin. Points to you if you get the reference to one of the best shows in television currently.
I've been thinking about the Refer-a-Friend feature lately and I might give it a try before too long. Of course the friend I'll be referring is myself, in the interest of power leveling a couple toons just for shits and giggles and of course for the awesome two-seater mount. I setup one of my older gaming PC's along side my current rig, setup a second account and downloaded the trial version of the game, patching it up to date and everything. Stupid old me figured that once you own WoW and all of its expansions you could install it on multiple accounts, only having to pay for two accounts. Nope. Each account requires its own copy of the game and all of its expansions. I'll have to pick up the WoW Battle Chest and pay for a second account long enough to get the mount on my main account. Below is a shot of my second account getting patched up to date. And might I add that running two PC's side by side really satisfies the inner geek in me, especially when said PC's were built by yours truly.
Buying second copies of WoW and paying for a second account for a few months seems like a huge waste of money, and it is, but I've always wanted to give dualboxing a shot. We'll see if it happens. I'll keep you updated.
Okay time to wrap this post up. Just a couple things before I leave. I have my two character slots for my Worgen and Goblin toons (Male Druid and Female Rogue respectively) named and reserved. I can't wait! Which brings me to a question for my readers. What are you going to do first once Cataclysm is out: Level your current toons to 85 or focus on leveling a Worgen/Goblin?
See you next time! :)